I have always wanted to find a denim jacket at a thrift store and finally I did. Denim jackets have a degree of coolness about them and I have always wanted to create my own version of a "Well Travelled Rock Chick" jacket. Recently seen a really cool treatment of a denim jacket by Anthropologie using a painted canvas as a unique design feature. Here is my version.


I can't draw but I still like to get my ideas down on paper. Here is the beginning of my idea.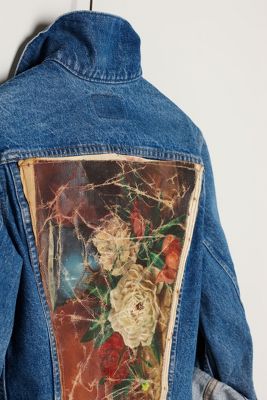 Anthropologie's Kunstenaar Denim Jacket that retails for $388.00. Love the jacket but not the price. Very clever idea that uses old paintings sourced in Belgium, Holland and France and transformed by Leslie Oashmann into wearable art.
Here is my thrift store find.
Here is the back just before it is to be transformed.
Vintage August 1972 velvet wall hanging. I bought this for $1.50 from a thrift store approx 3 months ago. My house is retro-styling so this has actually been hanging on my hallway wall. The colours are vibrant and they just pop against the black velvet background. I also love the retro font therefore I had to keep the wording intact.
Finished this off with a black ric rac trim. The velvet wall hanging also had to be cut down to size to fit the denim panel.
Finished and ready to wear.
"Well Travelled Rock Chick" Denim Jacket.